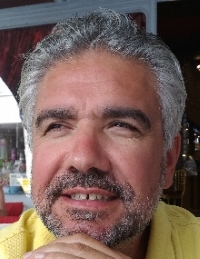 This is the page defining Christophe Faugère to THAT I AM ...
Dr. Christophe Faugère
I AM
Christophe Faugère (pronounce Fo-Jair), a practitioner of meditation (Zen, Tibetan, Siddha Yoga) for about 20 years, love playing tennis and in particular have a great admiration for Roger Federer.
Research Synopsis
Current research focuses on mindful finance, ethics, the workings of financial markets and monetary economics. The main past achievement is the development of models of asset valuation (gold, Treasuries, stock indexes, tech stocks) based on combining rational and irrational investor behavior. This research has culminated in the co-invention of 'Required Yield Theory' one of the most accurate theory for valuing the S&P 500 and gold. Published in top tier US academic journals such as the Journal of Portfolio Management and Financial Markets, Institutions & Instruments. One of the published articles on 'Sell Discipline' received extensive coverage in the New York Times and International Herald Tribune in 2004.
Experience
Obtained Ph.D. in Economics from the University of Rochester, NY USA, in 1993 and a Masters in Mathematical Economics in 1987 from the University of Toulouse. Currently Professor of Finance & Economics at Kedge Business School, Bordeaux and was the Chair of the Finance and Economics Dept. there from 2015-2018. Prior, was an Associate Professor and Chair of the Finance Department at the UAlbany School of Business, NY, USA.
Taught courses in Investments, Corporate Finance, Derivatives, Fixed Income, Macroeconomics and Monetary Economics at the graduate and undergraduate levels, as well as in executive programs in the US and France. In 2006, received the UAlbany School of Business Harold L. Cannon memorial award for best teacher at the undergraduate level and was voted best professor in the UAlbany School of Business MBA program in 2002. Preferred areas of teaching are stock market valuation, modern portfolio theory, asset pricing, market risk premia, financial crises, monetary policy, ethics and mindful finance and behavioral finance.
Info
---
Sharing Abundance
---
Fully Transparent
to Kind-Man by Kind-Man ...
Your Support makes Possible, even when seemingly 'little'!
We no longer have BANK-ACCOUNT, however, PayPall allows us shop online for Projects, or ask us for a Friendly PERSON to receive via WU